Window Repair and Glass Replacement Services in Wittman, AZ
There are a number of different reasons why you may want to upgrade your windows. You may include windows as a part of your home remodel or you may have incurred damage from a recent storm. Even glass shower doors can become damaged over time. it's important to know the signs to look out for so that you can be better prepared for damage the glass rather than being surprised by it. We're proud to say that we have experience serving Wittmann, AZ for several years. Trust experts to handle your window and glass door repairs and replacements. We service both residential and commercial clients. We only staff experienced and skilled technicians for door and window repair.
Call for a free quote or to schedule an onsite inspection: (602) 492-9080

How Windows Become Damaged
Most windows are durable. However, any window can become damaged after a heavy storm or encountering rocks and debris. You may have an image in your mind of a damaged window having a large, obvious crack in the glass. In most cases, window damage slowly accrues over time. In other words, your window damage may be easy to miss. A broken window seal also may be easy to miss. This small issue has a huge effect by reducing the energy efficiency of your home. You can identify a broken seal by feeling a draft around your window.
Broken Window Seals
To prevent the transfer of energy between the inside of your home and the outdoors, dual pane windows contain insulating gas. Triple pane windows also contain this insulating gas. In the event that your window seal is broken, the gas has escaped and it cannot be added back. In this situation, the window has been permanently damaged and it will need to be replaced. Dual and triple pane are the most energy efficient windows available to choose from.
Constantly fluctuating outdoor temperatures of Arizona have a damaging effect on window seals. The seals expand and contract over time because of fluctuating AZ temperatures. The expansion and contraction wears the window seal out eventually. If your seal was incorrectly installed in the first place, this is may cause the seal to slip out of place. Simply replacing the seal can easily be done, but this does not add the gas back into the insulated window. Therefore, a broken seal is cause for window replacement.
Dual Pane Windows
Dual pane windows are made of two layers of glass separated by a spacer. This type of window can reduce heat loss in the home by up to 50%. Dual pane windows are a highly durable, more affordable option than triple pane windows.
Caring For Your Wood Frame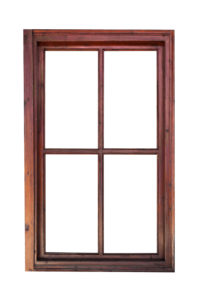 Wood frames and sashes can become damaged, as wood is prone to rot. To help avoid rotting wood, make sure that your sprinklers do not spray across your windows. Also, check periodically and see if the wood is leaking, dripping or rotting. If the entire frame of your window has rotted, this calls for a window replacement.
Older, cheaper glass windows are more subject to breaking than new, thick glass. It's important to avoid using abrasive cleaners on your glass. Constant usage of abrasive cleaners can make your glass more subject to breaking. Always use microfiber towels when cleaning all of the glass in your home. Seriously consider replacing your windows if they are a decade old or older. New, thick glass windows will not shatter as easily when facing a storm.
Triple Pane Window Benefits
Triple pane windows perform significantly better than double or single pane windows.
This type of window is the ideal upgrade for someone looking to increase the energy efficiency of their home. The triple layers of glass act as insulation, plus if there is a gas filler, the efficiency is increased even further. Triple pane windows are much heavier than double or single pane, but this will not affect the window's ease of use.
Shower Glass Doors And Windows For Your Home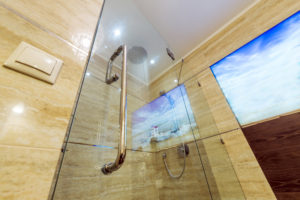 Shower glass door repair is no problem for us. Our window replacement company specializes in more than glass windows for the home. We also have experience replacing glass shower doors and glass enclosures in the bathroom. A glass tub enclosure or shower door that is leaking water is likely in need of repair. Other than having a problem with the glass itself, bathroom glass repairs are typically because of issues with the gasket or caulking. Leaving a leak unattended can worsen the problem by allowing water to reach the drywall, leading to the growth of mold.
There are a multitude of reasons why you may want to replace the glass in your home. You can significantly upgrade the look of your home through simply replacing the window. Not only that, you can save yourself money in the short-term and long-term but having properly insulated windows. If you know that your windows are getting up in age, it's time to take preventive measures. Get your windows replaced before they succumb to pressure cracking or a storm.